Stephanie Mahr
Deborah Haklin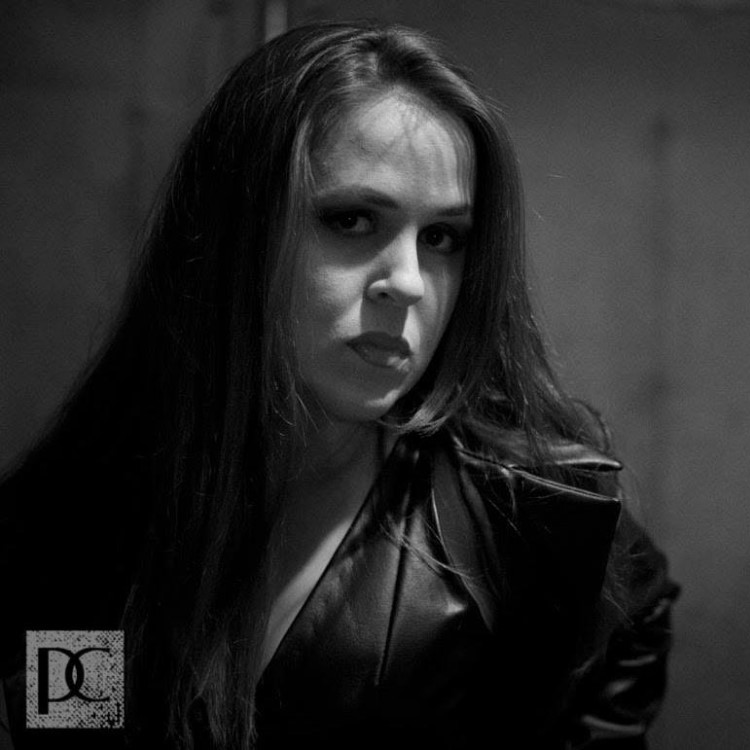 Stephanie Mahr Biography
Stephanie largely grew up in Adams-Friendship, Wisconsin. Aside from being one of the last classes to dabble in home economics, sewing wasn't really something thing she explored until her 20s. She accepted a sewing job in a hemming department at Lands' End. She picked up the concept quickly and really enjoyed it. What she wasn't learning on an industrial machine there, Stephanie self-taught on a basic machine, in her spare time.
Stephanie would remake and upcycle things she found around her house to practice techniques on different textures. Then she would wear them in public as a true test run. After 9 years and many, many lessons learned (some more embarrassing than others…) she branched out, Leaving Lands' End and met other like-minded people along the way. She learned how to manage delicate vintage fabrics, helped work with costumes for theater and ultimately found her place doing tailoring work in the bridal industry. Stephanie attempted sewing in other forms by making blankets, headpieces, bags and accessories for others, but she understand where her strengths are and not all sewing is the same!
Today, Stephanie continues to learn and grow on new and existing skills. She has a sewing studio in New Glarus, Wisconsin, where she relishes in the art of sewing every day. Stephanie still focuses on the fit of garments and is also known for highlighting positive self-image as a sidekick to proper tailoring. She enjoys working with the wide range of people she sees, from the quite traditional, to the most unique of styles.
Artist Statement
There are three main parts that make up our existence. We have our physical person, the environment we keep ourselves in and the personality we have to express uniqueness.. But we will circle back to that in a moment.
The exhibit "From the Cutting Room Floor" shines a light on fabric waste in the fashion industry, which is a problem we all know exists. An even greater common problem is that it's difficult for people to want to make a change if they know it isn't directly and instantaneously affecting them personally. My interpretation of this exhibit shows just how closely fabric waste affects us, even if we don't feel it in the moment. Your body demands a healthy environment to thrive but it's hard to honor yourself when we live in a place where we dump roughly 15 million tons of textile waste in landfills each year.
I've gathered almost 50 pounds of fabric waste from different fabric districts around the US and created these pieces. Just because it's "waste" does not mean it can't be reused and made into something beautiful. These pieces are fashion, secretly functioning as a solution to a bigger problem.
This exhibit shows just how easy it can be to honor yourself by respecting your environment and being true to your uniqueness.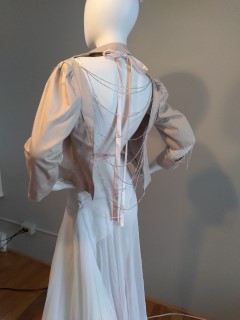 Stephanie Mahr: " The "Kelly" jacket with bralette and over skirt is made completely from rescued scraps."
Deborah Haklin Biography
Sewing became an early (and mysterious) obsession for Deborah. How was clothing made, the intersection of seams, why certain fabrics moved the way they did, the gorgeous way that the body presents a garment….these were all questions that ran through her head as a small child of five. She imagined herself laboring beneath elaborate gowns of her own creation and holding fashion shows in the living room. Her mother did not sew and owned only 3 spools of thread (green, brown, and navy blue) and only 1 large tapestry needle, all items that she sneakily procured. Deborah spent hours stabbing any bits of fabric she could get her little hands on. It wasn't much. She could fit my entire sewing stash into an old stocking cap. She used hair barrettes and bobby pins to "drape" skirts in her closet before afternoon kindergarten.
It wasn't until later in life that Deborah began to see how this gift was passed on to her. The generations of women, her grandmother and great grandmother that came before her, excelled in the needle arts. Her Great Grandma Turner came to the United States from Slovenia to support her family as a seamstress. Her Grandmother Gizella was a proficient seamstress, pattern maker, and lacemaker. Her Grandma Lorraine loved crochet. Although she did not have the opportunity to know these women in my 3d life, she believes that they sprinkled the seeds of inspiration on her early on. They knew it would be needed to carry her through the challenging life that lay ahead.
Through the confusion of the childhood death of her brother, the darkness of abuse that engulfed her family, and the absence of guidance as she stumbled through the world….design was her anchor. She began sewing for hire at 15, learning from the nuns in high school how to sew from a pattern and she immediately began her career. She continued on to fashion school in Chicago where she learned the finer points of original garment creation. Decades later, she is the founder, owner, and ethical couturier of The Artful Dressmaker. In her effort to operate as a zero-waste fashion design business, she has developed designs that utilize what is otherwise seen as garbage and transformed into luxury, into Art.
Artist Statement
This small collection is a taste of the ideas that run through my mind, examples of the various stages of waste and the beginnings of ways to reuse – elevate them. We owe Earth all the creativity and skill we can bestow upon Her as an offering to make amends for previous decades of pollution and abuse. My mission is this: to honor the past, but transmute the darkness into inspiration and light, to create beauty that inspires all for a stylish and clean future.
Deborah Haklin: "I don't think anyone can deny that the issue of plastic waste can seem insurmountable. Plastic was once considered "the wave of the future". But what has it done to the waves of our oceans? The high low gown "Ocean" has been woven in bobbin lace technique with the addition of knitted and needle lace sections. It is my humble attempt at finding a beautiful solution to what we have taken for granted for far too long, the use and misuse of the plastic bag. This gown used 120 Walmart shopping bags and countless hours of weaving, at least 100 hours of weaving."
Starting March 15, 2022 all Covid-19 restrictions will end for all events and classes at the Monroe Arts Center. Masks will be optional.
This Exhibit has been supported by MAC Corporate Underwriter Colony Brands, Inc. and Season Media Underwriter Big Radio, with additional support from Mike & Shelley Muranyi, Lee & Chris Knuteson, Paul & Sue Barrett, David & Julie Buchanan, Kevin & Chris Callahan, and Don Amphlett & Jan Johnson.