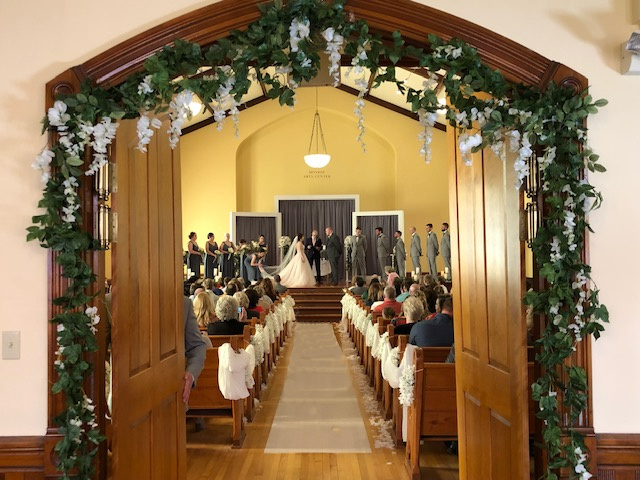 Facility Rental
Welcome to the Monroe Arts Center! Located two blocks from the charming Courthouse Square in the downtown area of Monroe, Wisconsin, the historic Monroe Arts Center is a destination for visitors and residents alike. Elegant to sophisticated to casual, contemporary to rustic, the Monroe Arts Center is the place to bring the vision for your gathering to reality. Renovated and restored to perfection, this 150-year-old concert hall and reception areas are the perfect setting for your rehearsal dinner, wedding reception, corporate meeting, or family reunion. Our expert event planner will focus on your details and provide extraordinary service while you and your guests enjoy all that the Monroe Arts Center has to offer.
Indoor and Outdoor Facilities
The Monroe Arts Center offers several outdoor terraces available for private rental, as well as a number of indoor distinct and flexible spaces that serve a variety of functions.
Kitchen Facilities
The Monroe Arts Center's newly renovated commercial kitchen offers flexibility for any caterer. Featuring oven and stove top cooking areas, microwave, large refrigerator, standing freezer, dishwasher, prep areas and several sinks, this kitchen can accommodate the needs of any event and any caterer.
Plan your perfect event!
Please complete the contact form below to get in touch. Be sure to tell us about what type of event you have in mind!
Mailing Address
Monroe Arts Center
1315 11th Street
PO BOX 472
Monroe, WI 53566
Opening Hours
Tuesday through Friday  from 10am to 5pm

Saturday 10 am to 2 pm