The Joan Horgan Memorial Fund was established to ensure that every child or adult who wishes to attend art or music classes at MAC will have the opportunity to do so regardless of their ability to pay tuition fees. As an art teacher, Joan understood the importance of providing every individual the opportunity to express themselves and develop their creativity.
Proceeds from Joan's Tea Party will provide scholarships funds to support students of all ages who wish to attend art and music classes at the Monroe Arts Center.
Guests who attend Joan's Tea Party will experience an array of delicious savory and sweet afternoon tea delicacies as Playwright, Rebecca Gilman discusses her inspiring career.
The Chef for Joan's Tea Party
Chef  Shelley Rubitsky is a Wisconsin Girl who has worked and traveled around the world.  Her flavors are global, but with a Midwestern heart.  Shelley prefers to use local and organic ingredients whenever possible.  Her food is lively in freshness and flavor, thoughtful in its detail, and careful in its crafting.  You're getting a chef who will the food for your event as if she were making it for her own party.
The Speaker for Joan's Tea Party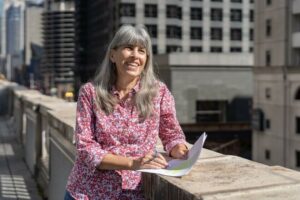 The Monroe Arts Center is honored to announce that the Keynote Speaker for Joan's Tea Party will be Rebecca Gilman, playwright and MAC Board Member.
Rebecca Gilman  is an artistic associate at Goodman Theatre. Her plays include Luna Gale; A True History of the Johnstown Flood; Dollhouse; Boy Gets Girl; Spinning Into Butter; Blue Surge (all of which were originally produced by the Goodman); Soups, Stews, and Casseroles: 1976 and The Crowd You're in With (also at the Goodman); The Glory of Living; The Sweetest Swing in Baseball and The Heart is a Lonely Hunter. Rebecca is the recipient of a Guggenheim Fellowship, The Harold and Mimi Steinberg American Theatre Critics Association New Play Award, The Harper Lee Award, The Scott McPherson Award, The Prince Prize for Commissioning New Work, The Roger L. Stevens Award from the Kennedy Center Fund for New American Plays, The Evening Standard Award for Most Promising Playwright, The George Devine Award, The Theatre Masters Visionary Award, The Great Plains Playwright Award, a Global Connections Grant by Theatre Communications Group, an American Scandinavian Foundation Creative Writing Grant and an Illinois Arts Council playwriting fellowship. Boy Gets Girl received an Olivier nomination for Best New Play. Rebecca was named a finalist for the 2001 Pulitzer Prize for The Glory of Living. She is a member of the Council of the Dramatists Guild of America. In 2016, she was inducted into the Alabama Writers Hall of Fame. Currently Rebecca's play Swing State is running in the Off-Broadway theatre The Minetta Lane.
Event Tickets
$75 per person
$520 per 8 person table