Your family will never forget this heartwarming show from Jolie Canoli her husband, Dr. Theo! 
Theo & Jolie have traveled worldwide performing shows using mime, illusion, puppetry, live music, and original stories. Their cast of puppet characters are quirky and fun, teaching kindness and friendship through hilarious interactions. Humor and audience interaction keep kids engaged throughout. Original songs like "You're Uniquely You," and "If I Were an Elephant" include audience dance moves and valuable lessons. It is an entertaining experience for the whole family!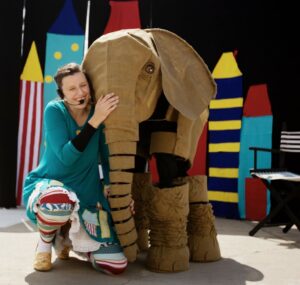 This Event is Free and Open to the Public!
Jolie Canoli; Uniquely You has been supported by MAC Corporate Underwriter Colony Brands, Inc. and Season Media Underwriter Big Radio, with additional support from, Monroe Morning Optimists, Monroe Kiwanis, Bob & Gaida Vickerman, Deb Thompson, David & Janeen Babler, Carter & Gruenewald, Rick& Nancy Maliszewski, Ruda Chevrolet Toyota, Barb Woodriff & Pete Guenther, Bill & Elaine Bethke, Ken Klassey, Monroe Noon Optimist, Jim & Judy Munro, Ron & Jennifer Spielman.