Lori Biwer Stewart
Artist Biography
Lori grew up on a small farm outside of Elma in North Central Iowa. She has not strayed too far from home and now lives in Osage, IA where she also has a small studio. According to Lori, "Iowa was a wonderful place to grow up and I still love the quiet beauty of it."
Lori earned an Associates of Applied Arts degree in Commercial Design from Hawkeye College in Waterloo, IA. She has worked in the graphic design field for over 30 years and has had  a variety of design positions with newspapers, a signage company, and commercial printers. She is currently working as a Marketing Coordinator for a steel door manufacturing company designing literature and advertising.
Lori has always made time to create. After years of working with many different art mediums, she eventually took a small class for linoleum printmaking at a local art center and knew it was the perfect fit. She loves the simplicity of the technique and graphic look. Everything she knows about printmaking is self-taught. She depends on her natural abilities, a large library of reference books, online tutorials, and valuable information from other printmakers. Lori sells her artwork online, and at summer art festivals in Iowa, Minnesota, and Wisconsin. She is also represented by galleries in Iowa and Illinois and has had several solo exhibits.
Artist Statement
I'm not interested in relationships of color or form or anything else. I'm interested only in expressing basic human emotions while telling a story. Some of my subjects are quite beautiful, others less so. My goal is to inspire those who see my work to look more carefully at the world around them, to discover beauty in unusual and ordinary places.
Many of my pieces encourage interpretation and have symbolic images such as keys, birds, or doors that help to tell a story. Crows, ravens, and other birds are often included if not the main characters in my work. I find them inspiring and eerily humanlike. I also give great thought to my titles. In fact, most of the time I know the title before I create the image. Random words or phrases from books, music, quotes, or just general conversation tend to haunt me until I jot them down in my journal to later inspire a piece of art.
My work has been growing both in size and complexity. Ultimately, I do not seek to unravel mystery or provide answers, but rather record my observations and ideas in whimsical images, encouraging others to seek out the answers for themselves.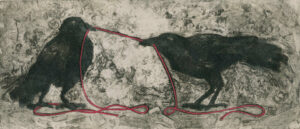 This Exhibit has been supported by MAC Corporate Underwriter Colony Brands, Inc. and Season Media Underwriter Big Radio, with additional support from Mike & Shelley Muranyi, Lee & Chris Knuteson, Paul & Sue Barrett, David & Julie Buchanan, Kevin & Chris Callahan, and Don Amphlett & Jan Johnson.