For the 36th consecutive year, Monroe Arts Center will exhibit artwork entered in the Wisconsin Regional Arts Program (WRAP) Competition. Artwork will be on exhibit March 24, 2023 through May 26, 2023. This event is co-sponsored by the Monroe Arts Center and the Association of Wisconsin Artists and is open to non-professional artists (must be at least 18 years of age) living in Wisconsin or neighboring states.
Artists are encouraged to participate in the WRAP competitions and workshops held in various regions of Wisconsin throughout the year. The State Award winners selected at the Monroe exhibit, along with all other 2022-2023 WRAP competition winners held throughout the Wisconsin, will be on display in September at a location yet to be determined. Additional awards and prizes will be given at this time.
For additional information please CLICK HERE to visit the WRAP Website.

Wrap Workshop
Plein Air Painting and an Introduction to Water-Miscible Oils
conducted by Lynette Redner
May 27, 2023
9:30 am – 12 noon at Monroe Arts Center
Lynette will discuss her own mishaps and adventures around painting outdoors and how to use the knowledge learned in painting outdoors to create better studio pieces of art and avoid misleading information in photographs.
Lynette will also discuss the  versatility of water-mixable oils. Why she chooses it over traditional oils when working indoors. She will also discuss edge work, value and color within the presentation so the information can be used for any medium one chooses.
This workshop will be conducted in-person and is free to all those exhibiting in WRAP, for all others there is a $5 fee to attend the workshop. Please pay at the door on May 27th.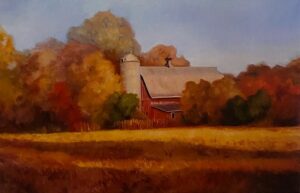 After the Harvest, Oil, 24″ by 36″
Lynette Redner was raised in the rural area of Clinton Wisconsin and returned to live in Wisconsin, after spending 20 years in Arizona. Her art centers around landscapes and animals and is inspired by nature.  Her mediums are watercolor, oil, and water miscible oils and gouache.
Her works have been said to be fresh, colorful, joyful, and sometimes humorous. Many of her customers say there is a healing quality within the art.
Lynette is primarily self-educated by researching through many avenues including on-line and attending workshops from internationally/nationally known artists. She is always pushing to learn more. She plans to keep working diligently on her artistic skills and you can find her painting in her home studio, a studio in Darien, Wisconsin, as well as painting outside in the rural areas of Wisconsin.  She is an award-winning participant of several plein air events and other show events. She does multiple art fairs in the Midwest area.
Currently Lynette is involved in multiple southern Wisconsin art groups as well as being a member of, Oil Painters of America, National Oil and Acrylic Painters' Society and American Impressionist Society. She also teaches a few classes every year and hires out for painting commissions and private lessons.
Her work can be seen on her website: Rednerart.com or in person at Raven's Wish Gallery in Janesville, WI, and the Beloit Art Center.
Gallery Exhibits have been supported by MAC Corporate Underwriter Colony Brands, Inc. and Season Media Underwriter Big Radio, with additional support from Dave and Julie Buchanan, Pete Guenther and Barb Woodriff, Lee and Chris Knuteson, Mike and Norah Sanders, Kevin and Chris Callahan, Jane Paradowski, Deb Thompson, Chuck and Chris Wellington, and Don Amphlett and Jan Johnson.