About the Artists
Judy Marie Buelow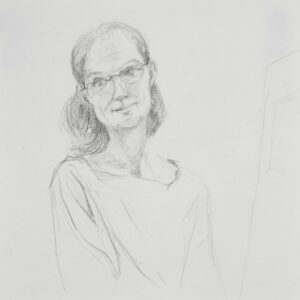 Biography

Judy Buelow is a Washington D.C. artist who paints scenes from everyday life. From childhood, she has always drawn faces and figures, a vocation she has followed to the present. Born and raised in Wisconsin, she worked as a Foreign Service Officer for most of her adult life, with postings to US Embassies in a half dozen countries in Latin America and Africa, and in the State Department in Washington DC. At each new posting, she would paint images of her new community, always focusing on the people, in all their diversity, beauty and expressiveness. Her paintings document what she experienced in her travels: capturing a special moment, conveying a unique sense of place, while striving to portray something of the universal human experience.
Judy took extensive coursework in studio art when she attended Carleton College in Northfield Minnesota. After she retired from the State Department in 2012, she settled in Washington DC and made art her second career, taking coursework at the Art League in nearby Alexandria, Virginia and at VisArts in Rockville, Maryland. She exhibits her work regularly in the Washington area. This is her first exhibit in her home state of Wisconsin.
Artist Statement
My neighbors have always been my most enduring influence. My life and my art have been enriched by my experiences living in so many diverse communities and far-flung neighborhoods across the world. I am deeply rooted in Wisconsin, madly in love with my adopted hometown of Washington, D.C., and forever influenced by my career spent living and working throughout Latin America and Africa.
I was born and raised in Wisconsin, where I have a long family history and relatives all over the state. However, I have spent much of my adult life traveling the world. A few years after I graduated from Carleton College, I joined the U.S. Foreign Service. I've always been fascinated by people, always sought to understand how we live our daily lives, and how we build our communities, so diplomacy was a natural fit for me.
Art was also a natural fit. I've always made pictures, ever since I could first hold a crayon in my pudgy little hand. When I started traveling the world, I brought my sketchbook with me. Wherever I happened to be, posted to a US Embassy somewhere in Africa, or Stateside in Washington D.C., I would create pictures of the daily life of my community. In each picture, I would try to capture a special moment and convey a unique sense of place, while also showing something of the universal human experience. By painting my neighborhood and my neighbors, I sought to understand them.
When I retired from the Foreign Service in 2012, I settled in Washington D.C. and got serious about my longtime dream of becoming an artist. I took studio courses and continued to paint my neighborhood. My years of travel and close observation of faraway lands taught me a valuable lesson: how to see my own country with the eyes of a traveler and the curiosity of a newcomer. Working in acrylic on canvas, I began to portray neighbors from all over the world. I have shown my paintings in juried exhibitions throughout the Washington, D.C. area.
In 2019, my longtime friend and Carleton College classmate Todd Larson commissioned a portrait of his family on their farm near Blanchardville. It was a wonderful opportunity to come back to my Wisconsin roots while also stretching my artistic capabilities. During a delightful visit to Todd's farm, I looked through family photo albums, roamed around with a sketchbook and got re-acquainted with Wisconsin landscapes. Since then, I have continued to make paintings of family and friends in my first neighborhood in Wisconsin.
The Monroe Arts Center provided this special opportunity to bring everything all together in this exhibit and introduce you to my neighbors from neighborhoods all around the globe.
Biography

Marc was born and raised in central Wisconsin in the Rockwellian town of Wild Rose. He has three brothers and much to his mother's chagrin, no sisters. She wanted the Von Trapp Family, but what she got was closer to a cheesy barbershop quartet with excessive body odor. Nevertheless Marc's parents were abundantly supportive of his and his brothers' endeavors, creative or otherwise.
Marc began working as a professional artist while studying illustration at the University of Wisconsin-Stout—first as a caricature artist at a local amusement park and eventually as a freelance illustrator for a variety of clients and publications. While the caricature and illustration work were a far cry from the fine art world, they proved an invaluable jumping off point for Marc's career as an artist. The drawing skills and quick decision making required in those fields would become foundational as he waded into fine art painting.
Continuing down this career path for several years, Marc discovered the mysterious world of plein air painting. While Marc loved the comfort and convenience of his studio, along with the abundance of distracting Youtube videos that could be found there, nothing could compete with this newfound passion. Big-eared, goofy faces and demanding art directors were quickly replaced with painterly depictions of the Wisconsin landscape. Notwithstanding, the Wisconsin winters would once again drive Marc back into the studio, where he would hibernate for several months, only emerging for rations of cheese and lutefisk.
In 2018, Marc opened the M. Anderson Studio—a showroom and painting studio that would serve as his workspace as well as a home base for teaching workshops.
As Marc's love for representational painting expanded, so too did his list of professional accomplishments. His work has been accepted into prestigious shows around the country and has garnered awards from Oil Painters of America exhibitions, national juried plein air events, and fine art shows. In 2020 he judged the nationally renowned "Richeson 75" competition held at the Richeson Gallery in Kimberly, WI.
Opening Reception: Friday June 17, 2022
5:00 – 7:00 PM  – Gallery Talks 5:30 PM
Starting March 15, 2022 all Covid-19 restrictions will end for all events and classes at the Monroe Arts Center. Masks will be optional.
This Exhibit has been supported by MAC Corporate Underwriter Colony Brands, Inc. and Season Media Underwriter Big Radio, with additional support from Mike & Shelley Muranyi, Lee & Chris Knuteson, Paul & Sue Barrett, David & Julie Buchanan, Kevin & Chris Callahan, and Don Amphlett & Jan Johnson.