Event Details – Performance at 6:30 pm
Neil McLinden is a New York City based singer, actor, and multi-instrumentalist. Originally from Brookfield, Wisconsin, he began playing piano and singing from an early age, and quickly developed an interest in many different musical styles. In New York City, Neil is a musical theater accompanist and performance teacher at the Neighborhood Playhouse school of acting, and also produces and performs music with his friends and associates.
The Sounds of Summer outdoor concert series is a free event open to all members of the community.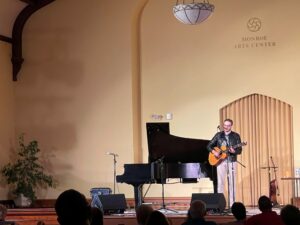 The Sounds of Summer outdoor concert series has been supported by MAC Corporate Underwriter Colony Brands, Inc. and Season Media Underwriter Big Radio, with additional support from Mike & Norah Sanders, Hans & Bobbie Bernet, Carter & Gruenwald Co Inc, Michael Furgal, John & Donna Glynn, Deb Thompson, and Chuck & Chris Wellington.